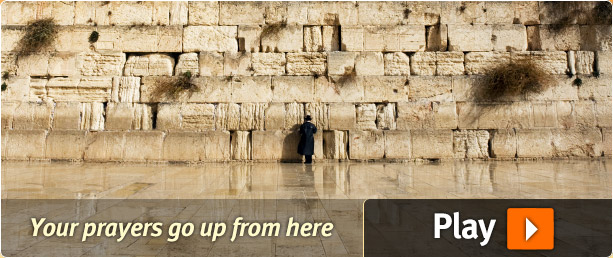 There is a powerful Jewish spiritual technique (segula) that one who seeks an answer to his/her prayers should journey to the Western Wall in Jerusalem to pray the same prayer request every day for 40 consecutive days. The segula can also be done by donating to have a pious prayer representative pray 40 days in your place.
According to the Torah and Kabbalah, the Western Wall (Kotel) is the holiest place on earth and currently the BEST place to send your prayers because the divine presence of G-d (the Shechina) dwells there. It is exceptionally POWERFUL TO PRAY 40 days in a row at the Western Wall (Kotel), because Moses prayed 40 days consecutively on Mt. Sinai and his very difficult prayers were granted.
Western Wall Prayers' caring team will partner you with a righteous personal prayer agent who will journey to the Western Wall (Kotel) and pray for you every day despite the searing sun, pouring rain, bitter cold or uncomfortable conditions. Your prayer agent's self-sacrifice (mesiras nefesh), intense spiritual teachings (Torah-learning), lofty intentions (kavana) and charitable donations (tzedakka) on your behalf will add incredible merit (zchus) to you, and we pray will bring about a clear answer to your prayer requests.
Western Wall Prayers prays with all of our heart that at the end of the Western Wall 40-day prayers, you will see how much closer you are to your goals, to yourself, and to the Almighty.
Jerusalem Western Wall Prayer Options
You can help Western Wall Prayers support Torah in the palace of the King through its request for prayers at the Western Wall project by making a Western Wall Prayer Request or by donating.
Read about Western Wall Prayers' amazing founder.